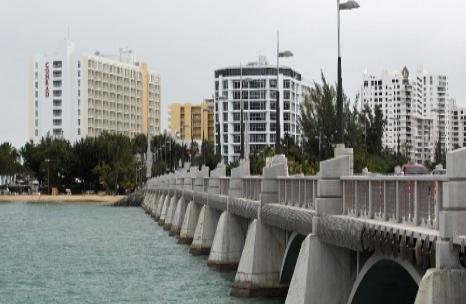 One of my fondest childhood memories is the many Saturday and Sunday afternoons I spent diving from the Puente (Bridge) Dos Hermanos into the warm Caribbean waters of El Condado lagoon in Santurce, Puerto Rico. I remember the excitement I felt every time I either walked to El Condado from Hato Rey (where I lived)—which took about two to three hours, depending on the distractions along the way—or rode there on a bicycle. Talk about an urban setting! There were so many things to see along the busy Avenida Juan Ponce de León; retail shops, movie theaters, bars, restaurants, street vendors, and what some would call "high places" (upper middle-class areas), and "low places," more susceptible to the effects of crime and drugs. But, no matter the setting, one thing that seemed to always be part of the ambiance was music, particularly salsa. It would emanate from boomboxes on street corners, or cars driving by, or from someone's home. Back then, in the mid '70s, you could still run into a "rumbon de esquina," where shirtless young (and old) men (sometimes wearing gold chains and the eternal Caribbean suntan), gathered on street corners and played the congas, bongos, panderatas, and campanas, with mastery, while others sang salsa classics, Medalla beer in one hand, and a cigarette in the other.
During those formative years ('70s and '80s), no matter where I lived in Puerto Rico, if there is one word that can be used to characterize my outlook on life, it would have to be "wanderlust." Just like anybody else, things weren't perfect during my childhood; there were ups and downs. The fact that I attended 12 different schools before I graduated from high school may be an indication of it... Regardless, when I was on the road, when I found myself in new places, it was all about exploring, about having new experiences, making new paths in the wilderness (literally, with machete in hand). I will never forget, being as young as 7 or 8 years old, getting on a bicycle with my brother, Benjamin (who recently retired from the U.S. Navy as a Chief Petty Officer), and friends, riding along the Río Grande de Loíza, from Canóvanas (where I lived for a brief time with an aunt, grandmother and uncles) all the way to the coast (El Chorro, Loíza), more than six miles away.
It was wanderlust (and life) which one day led me to buy a one-way airline ticket to New York City. I remember it clearly: It was November 30th, 1984. I arrived at the JFK airport at around 4:00 a.m. I was barely 19 years old, did not know conversational English, and had only $70 in my pocket (and a small carry-on bag with a few personal items). I had no one to call... I was totally on my own. But, for some reason, as I sat in the terminal after deplaning, I felt totally confident things would turn out just fine. To make a long story short, I'd just say I ended up in Hartford, CT (the next morning), where I spent two of the most exciting years of my life!
A few years later, in February 1987, I was standing at attention in front of my barracks during Navy boot camp at Great Lakes, IL. I remember some of the recruits passing out, falling on the snow-covered grounds, after standing at attention in 5-degree weather for 20 minutes. Someone told me that the trick to avoid passing out or getting dizzy was to not lock your knees for too long when standing at attention in that type of temperature.
I served four years in the Navy, until 1991. Since then, I've had the opportunity to work in different industries (and environments). I was once a Ramp Agent for Southwest Airlines. I also worked in computer sales. From 1996 to 2002 I worked at Corsair Communications (acquired by Lightbridge in 2000). I started working as a systems administrator, and within four years I was promoted to Project Manager for Latin American Accounts, and Account Manager. Working at Corsair (later Lightbridge) was a great experience. I had the opportunity to work on large and complex projects (in the telecommunications industry) and to travel to several countries, including Brazil, Argentina, Dominican Republic, Venezuela, Colombia, Perú, my native Puerto Rico, among others.
Since my days at Lightbridge, I've been mostly self-employed, except during 2005 and '06 when I worked at El Mensajero newspaper, first as their webmaster, and then as an advertising account executive.
Today I continue my work as a small business consultant (web development, advertising, marketing, events) working with small businesses, entrepreneurs and organizations.
After all these years, I've found that I'm still afflicted by wanderlust! That's what I like the most about being a self-employed consultant. One day I may be meeting a customer in Walnut Creek, or San Ramon, or in the Mission District, San Mateo, San Rafael, San Jose, or Oakland. Some other day I may be at a Festival or a live music event with thousands of people. And yet, others, I'm working at my desk in my home office, watching the beautiful tree outside my window swaying with the wind (as now!).
But, no matter what, having new experiences, meeting new people, and exploring new places will always be the fuel that powers my days! I'm looking forward to meeting YOU!
---